A Guide to Passing a Local Children's Fund
Children's Fund Campaign Manual
Produced by Funding the Next Generation in collaboration with 50+1 Strategies
This manual starts where our other manual leaves off – what to do once you have a measure on the ballot. Our hope is that it will prepare you for some of the challenges you will face and give you a solid overview of the major elements of a campaign. It includes everything from day-to-day operations to overall strategy. Of course every campaign is different – but we hope this manual will help you get started thinking about what is involved. While this is not a substitute for a professional campaign consultant, it is intended to be useful to you and your team as a preliminary overview, and as a touchstone along the way.
Topics include:
Deciding which election
Creating your Steering Committee
How to select a campaign consultant
Staffing and Responsibilities
Polling
Fundraising
Treasury and Compliance
Endorsements
Press and Media Relations
Digital Voter Contact
Mailing and media
Campaign timelines
Tools and templates:
Calculating your win number
Practicing effective messaging
Developing a campaign budget
Analyzing your fundraising network
Planning your volunteer needs
This is a large PDF. Please be patient when downloading.
Share Your Experiences
All of our campaigns will improve if we can learn from each other. We are eager to hear what worked and what didn't work in your campaigns. What advice would you give to others that we can include in the next version of this guide? E-mail Margaret Brodkin at Margaret@fundingthenextgeneration.org.
The guide is not a substitute for professional campaign consultation. If you need help finding the right campaign consultant, contact us for advice. And you can share the manual with your professional campaign consultant, once you have selected one.
Hard copies available at no cost.  Send an e-mail to margaret@fundingthenextgeneration.org if you would like to receive one or more.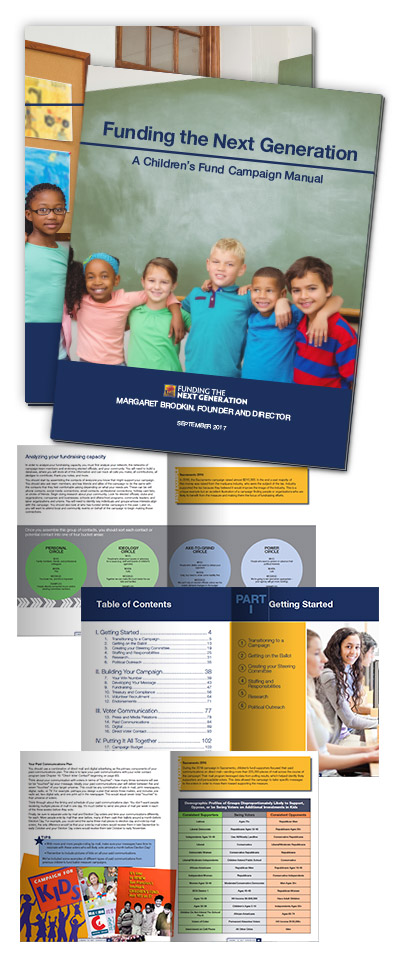 You might also be interested in:
Creating Local Dedicated Funding Streams
A Guide to Planning a Local Initiative to Fund Services for Children, Youth and their Families
>> Learn More